Gas Singening Machine "Super Singe"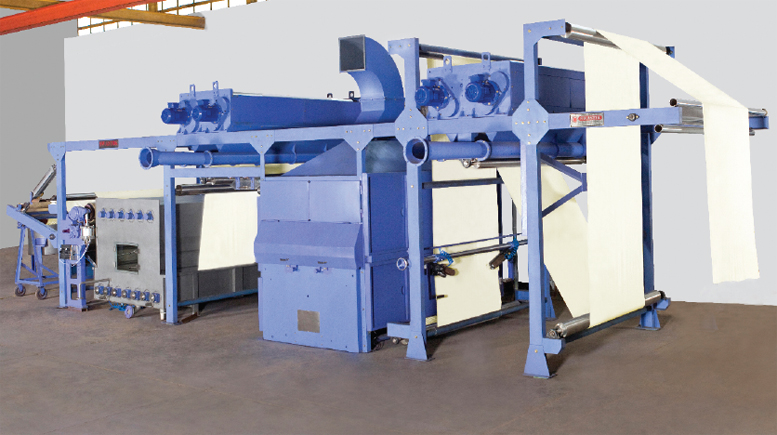 Though fabric singeing is a well established and long known process, it's relevance today to the modern finisher is greater than ever before. The constant demand for better quality fabrics, particularly blended fabrics with their susceptibility to pilling, has focused more attention on the singeing machines.

SWASTIK's singeing machines, running in the industry for well over 35 years, are suited to process all types of fabrics from lightweight voiles through to heavyweight denims woven from a wide variety of fibers including cotton, polyester, viscose, wool, linen and blends of these as well as other fibers.
Brushing and Cleaning Device
SWASTIK Singeing machines are equipped with adjustable-contact cleaning device, with AC Motor directly connected to the brush rollers. A swivelling arrangement permits minimum to maximum contact with brush roller for different kinds of fabrics. An efficient dust collection system is provided just below the brush rollers, which is connected to a powerful suction unit. A large dust collector can be provided with a suitable duct.
This normally makes it almost impossible to ensure uniform singeing nor does it help appreciably in case of dyeing character, strength etc. of delicate and / or SWASTIK's specially designed gas burner has been built based on long experience and careful study aimed at overcoming such troubles and to ensure the best singeing results for a wide range of fabrics such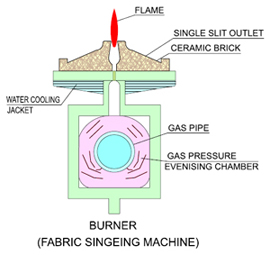 The burner of the Singeing Machine is a Slit type Burner with a Carbon Steel body. Burner body is specially designed to provide gas flow at uniform Pressure / Velocity throughout the width. Gas outlet section of the Burner is further provided with a water jacket to keep the burner cool. The top has specially designed refractory making up the burner chamber to provide uniform gas outlet velocity and thereby uniform flame height throughout the width. Being of a single continuous slit type, the width. Being of a single continuous slit type, the Burner provides a continuous, sharp flame.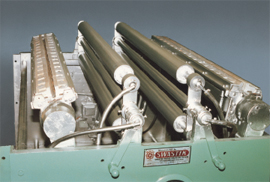 Burner Assembly with Fabric Guide Rollers
The photograph shows air-gas mixing chamber, and adjustable water cooled rollers to obtain different Fabric-Flame position, which permits desired types of singeing effect on different quality of fabrics with minor adjustments.
Super Singe machines are equipped with a push button Ignition system using sparking rods with a high
Singening System

SWASTIK Singeing Machines are designed to obtain different singeing effects such as Hard singeing – Medium singeing – Soft singeing to suit all kinds of fabric processing. This is achieved by adjusting the guide roller positions with respect to the flame.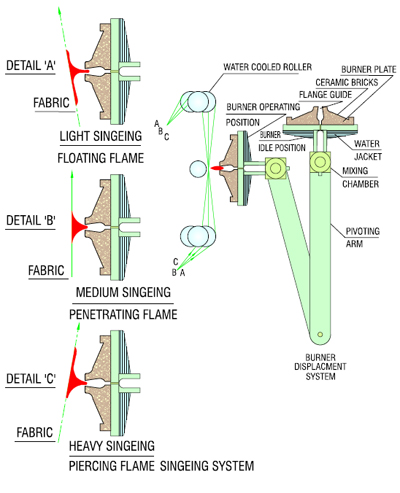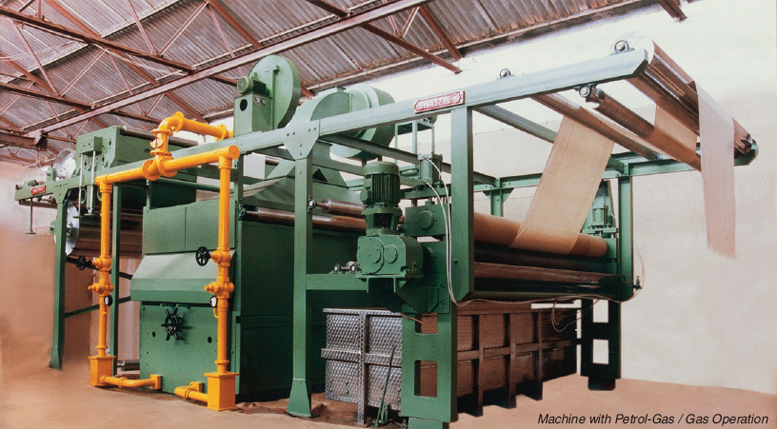 SPECIAL CHARACTERISTICS OF THE MACHINE
The machine is equipped with two slit type burners. The burners as well as the fabric guiding rollers are provided with water cooling arrangement. The cloth can be threaded so as to allow singeing on either one or both sides.
Water Cooled adjustable rollers immediately after the Burners to obtain soft, medium or high singeing effect.
Burners are equipped with a special ratio control valve to ensure optimum air & gas mixture for best flame even if there is variation in the inlet line. An operation sequence controller is provided to ensure safety and correct operation.
Machine is supplied with an efficient filtration arrangement for air and gas.
In case of power failure, both burners tilt away from the fabric simultaneously.
The Burners can be easily cleaned using the special arrangement provided.
Slit width, flame length and intensity adjustments are provided to ensure best singeing results over a broad spectrum of fabric quality and weight.
High Singeing Speeds, infinitely variable between 80 - 150 m/min.
Excellent and uniform Singeing effect with economical gas consumption.
Pre-heating Cylinders of Stainless Steel Construction can be provided for incoming fabric which will help remove inherent moisture from the fabric to attain better singeing results.
High efficiency brushing and beating rollers are provided for pre-brushing and post- brushing of the fabric. The Dust extraction unit is also provided.
De-size impregnation Tank can be provided with dosing tank and temperature control arrangements with light