Stenter - Optima 2510

OPTIMA 2510 from SWASTIK is a very compact modular and highly efficient Stenter, offering high reliability, optimum results and maximum output. It is equipped with advanced technology for optimum energy efficiency and quality of production. Its scientific design and well studied execution ensures aerodynamic air flow, considerably reducing the energy consumption. The streamlined construction enables easy approach to all components and ease of maintenance. The machine can be supplied suitable for various heating media like Steam, Thermic Oil circulation, direct fired Gas etc.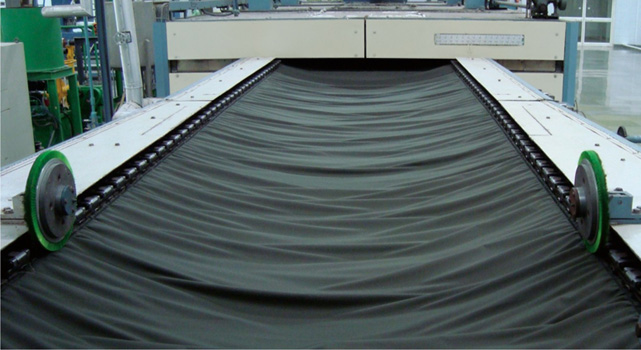 Stenter - Fabric Feeding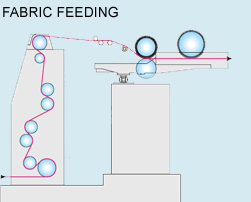 The In-feed system can be supplied suitable to take up fabrics either from batches or loose folds. The machine can be supplied with a J-Scray or an Accumulator for continuous operation. OPTIMA 2510 Stenters are provided with very efficient un-curlers and Infra-Red Edge Sensors which actuate the in-feed device provided with Rack and Pinion system, ensuring perfect fabric holding in clips or pins even at high speeds exceeding 100 meters per minute.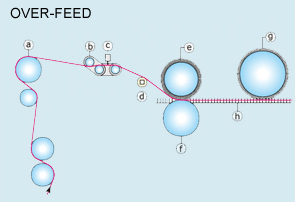 Stenter - Over Feed
A simple and accurate over-feed system using Variable Frequency Drives with AC Geared Motors ensures perfect and precise Over-feed control as required by the fabric, ranging from -10% to +50% by control of motor speed. It is very simple and easy to maintain. Separate drives control the Fabric Tension and Selvedge Tension rollers. A closed loop control system with encoder can be provided for precise control of the drives.
Stenter - Weft Shrinkage
Conicity of rails can be easily obtained by acting upon the individual width controlling screws of each compartment, de-clutching the individual unit from the main width adjustment control system and adjusting the individual rail to precise requirements, by acting upon each gear box provided on individual adjusting screw with the help of a hand-wheel. A suitable indication is provided on each gear box for precise control. It can also be automatically regulated as pre-programmed by acting on individual motors, with PLC Control.
Stenter - Chain Rails

Properly seasoned Cast Iron chain rail guides are provided to support the moving pin clip chain. They are strong and distortion free even when operating at elevated operating temperatures and at speeds in excess of 150 meters per min. Various combination of entry and exit chain rails are supplied for different applications. Extended entry rail track up to 6.3 meters can be provided which can support the Fabric feeding device, the Steaming device, Selvedge Gumming and pre-drying unit etc. Extended exit rail tracks up to 5.8 meters length can support the conventional Air Cooling zone, Selvedge Trimmer, Chain cleaning device etc.
Stenter - Pin Clip System

The clips are made of several individual, pressure die-cast, easily replaceable components. These components are made from special corrosion-resistant aluminum alloy and are distortion-proof even at the high heat setting temperatures, These components are very well studied to the lowest individual details and are designed to ensure long trouble-free performance with all kinds of fabrics.
The steel shoe holding the clips are fitted with sintered metal liners and connected with steel links. The roller chain glides smoothly on special cast iron rails. The superb sliding properties of sintered metal considerably reduces lubrication requirements even at the high heat setting temperatures, thus ensuring safe operation and long life. On request, the machine can be equipped with special polymer liners for lubrication free working. Optima 2610 is equipped with a vertical return pin chain. 
Stenter - Chain Cleaning Device

SWASTIK OPTIMA 2510 can be equipped with a suitable chain cleaning device with steam, consisting of a set of hard-chrome plated nozzles with flexible steam connections, for easy and fast cleaning of pin-clip chain.
Stenter - Weft Correctors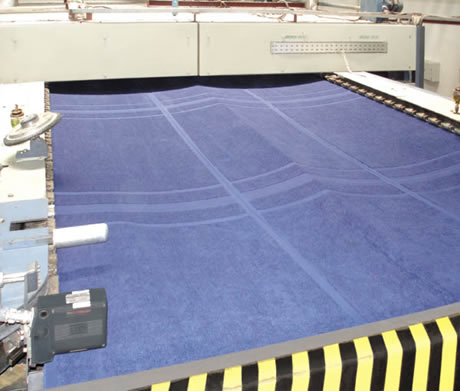 A simple motorised, quick acting two-roller Bow and four roller Skew Weft Corrector is provided for efficient correction of weft distortions. Alternatively, on request, the machine can be equipped with Automatic Weft Corrector with optical sensors and digital control. Additional sensors can be fixed on the machine exit to ensure perfect weft straitening.
Stenter - Width Adjustment

The OPTIMA 2510 is equipped with a standard motorised width adjustment device with common shaft with gear boxes mounted on top of the dryer. The width adjustment device is controlled from the control desk by means of push buttons. Setting of individual screws can be done by means of a handwheel acting through the clutch on individual gear boxes. The OPTIMA 2510 can also be equipped with individual motors and controllers for the individual screws which are controlled from the control desk either individually or all at a time. A suitable indicating arrangement is provided on the Operator Console.
Stenter - Dryer Model RDB -3000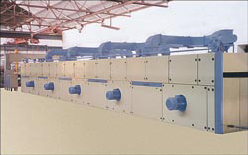 DRYER MODEL RDB – 3000 is a modular dryer which can be assembled as required. The low volume design Dryer RDB – 3000 is equipped with a specially designed duct with the Heat Exchanger / Burner at one end. The Blower is fixed at the other end. The inter-connecting duct does not permit any infiltration of air into the circuit without heating. Jet nozzles are designed to obtain maximum evaporation from the fabric and are specially designed for the specific fabric requirements.
The Dryer RDB – 3000 is a compact, sturdy, simple and efficient Dryer equipped with a closed circuit air circulation system, using Radial Blowers directly coupled with AC motors which can be controlled by Invertors. Basically the RDB – 3000 occupies less space and has lower energy consumption. All drive elements are fixed outside the heated area and are accessible from outside.
The Dryer RDB – 3000 is equipped with insulating panels filled with high density insulating material for minimum radiation losses. Specially designed jet nozzles at the entry and delivery end ensure minimum heat loss through escaping hot air.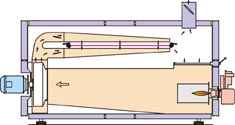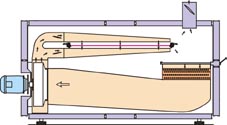 The blowers are mounted directly on the motors mounted outside the machine and are easily accessible. The blower speed is regulated through Variable Frequency Drives.
The high volume jet nozzle elements are specially designed for perfectly even air flow to the fabric. The special design provides better fabric support, gentle heat transfer and reduced energy intake. Different nozzle shapes for different applications ensures higher productivity for different quality and types of fabrics, distortion free for delicate and knitted fabrics and are suitable even for pile fabrics. Air distribution to the fabric from the top and bottom nozzles is regulated through dampers fixed in the circuit.
The dryer RDB – 3000 can be supplied with different heating media. The machine is equipped with multi-pass finned tube type heat exchangers with a large heat exchange surface for quick heating with Steam or Hot oil circulation or large firing area for Direct fired Gas Burners.
Stenter - Dryer Model RDB -3500

New Generation Split Air Dryer RDB-3500
Swastik also offers a new generation stenter model "SPLIT AIR" where each half chamber of the dryer is equipped with a twin blower system which incorporate individual invertor driven blowers for top & bottom set of jet nozzles. This results in infinitely adjustable air balance on each face of the fabric which is very useful in processing a wide variety of fabrics like knits, coated fabrics of pile fabrics.
Stenter - Delivery

The SWASTIK OPTIMA 2501 Stenters can be equipped with various types of batch winders– small batches or big batches or a plaiting down mechanism or any two.
Stenter - Main Drive

OPTIMA 2510 is equipped with multi-point AC Drives with Frequency converters — one each for Mangle, Stenter Main Drive, Stenter Draw Roller Drive, Overfeed Drive, Selvedge Tension Drive, Pinning Brush Drive, Plaiter and Batching Drive etc.
Machine is equipped with a suitable Control Panel housing all controls gears for, Main Drive as well as Blowers. A bridge is located on the entry box, which houses all controls, temperature controller speed meter, overfeed indicators etc., and on request with PLC/Micro Processor / PC etc.
Stenter - Lint Filter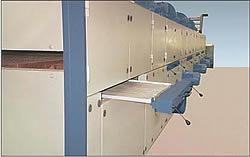 A suitable filter is provided just above the heat exchanger or in case of direct fired Natural Gas Burners, in the duct. The filter is easily accessible and can be cleaned standing outside the chamber while the machine is in operation. A second security filter is also provided.

Stenter - Exhaust System
Standard machines are provided with suitable number of exhausts to efficiently remove the moist and contaminated air. The exhaust  blowers can be supplied with frequency controllers and moisture sensors to maintain uniform moisture and excellent drying results.
Stenter - Fabric Transport Chain Drive
Standard machines are equipped with standard frequency controlled 3 Phase AC Drives. The drive is transmitted to the chain through a specially designed gear box mounted on the chain rail through splined shafts. Individual servo-motor drives to each chain rail can be provided for precise control of individual chain.
Stenter - Heat Recovery System

OPTIMA 2510 can be equipped with suitable heat recovery systems to pre-heat atmospheric air with the help of exhaust air, to feed to stenter at high temperature or to heat water to be used in processing machines or in boiler as feed water.
Stenter with Vertical Return Pin-Chain
SWASTIK STENTER OPTIMA 2610 & 2620 are well designed Stenters suitable to process Open width Knit fabrics, with a vertical return chain (Model 2610) and a vertical return chain with conveyor Belt (Model 2620).The machine is generally equipped with a Centering-cum-opening device; one or two padders and a weft corrector at the in-feed. Driven Scroll rollers, Mechanical de-curlers, pneumatically actuated pin-on device, Selvedge Gumming device, Steaming device with IR pre-dryer are fixed in the entry zone. The exit zone is generally equipped with an efficient cooling arrangement, Edge Trimmer, a fabric take off roller, Plaiter with conveyor and a Batching device.
SWASTIK OPTIMA 2510 is usually equipped with a heavy duty Two or Three Bowl Mangle designed to impregnate starch / finishing chemicals / tinting agents and squeeze all types of fabrics, including delicate textile fabrics made from natural fibres, man-made fibres and its blends. Pressure Rollers are usually made from heavy duty pipes with heavy shaft and covered with synthetic / natural rubber. Generally the driving roller is hard Rubber or Ebonite covered. Troughs are of Stainless Steel with guide rollers suspended from the side walls. Trough can be easily lifted or lowered for easy cleaning. Chemical dosing arrangement can also be provided. To avoid Centre-Selvedge variations, the mangle can be supplied with the top roller in "Anti-deflection" construction.
Stenter - Instruments
For standard machines, the control system is with contactors and relays. The centralized operation system is provided on the operator console fixed on the entry box. The fabric speed is indicated on digital indicators placed at a strategic location. Two width indicating scales, indicating fabric width, are also placed on the entry and exit side. In case of machine equipped with Weft Shrinking Device, individual width indicators are provided at each rail joint.
Temperature Indicating Controllers for each chamber are placed on the control desk along with the digital speed indicator at the entry of machine. Temperature Recording Device, Meter Counter, Control valves for Oil, Steam and Gas Lines can also be supplied.
All required indicators for voltage, current, air pressure etc. are also included and are all fixed on the operator console provided on the machine.
In case of a fully automated machine set up, a PLC and a touch screen HMI are provided to control all machine operation parameters. The PLC is generally equipped with recipe management software to ensure reproducible results.
Stenter - Automation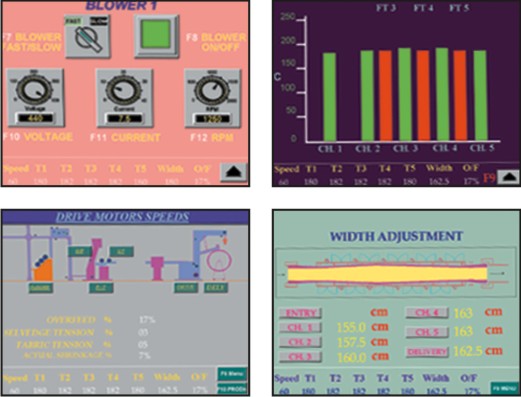 SWASTIK now offers a fully automated and sophisticated machine with the most modern PLC control system which ensures optimum production from the Stenter. The level of automation can be designed for specific requirements of individual customers. Typical level of automation to access and control basic machine parameters, functions and displays using PLC with Graphic Colour Screen Display of various functions on a Visual Display Unit/Touch Screen can be as follows:
| | |
| --- | --- |
| 1. | Automatic Speed Control of machine through programmed Dwell time |
| 2. | Squeezer Pressure |
| 3. | Fabric wet pick-up control |
| 4. | Over-feed control |
| 5. | Exhaust moisture control in dryer |
| 6. | Fabric moisture control in dryer |
| 7. | Width indication and control |
| 8. | Chamber and fabric temperature control |
| 9. | Pick Controllers for GSM control |
All deviations from set parameters are constantly measured and recorded. The system can be interconnected to a host computer or to other PLC for networking or data monitoring. Remote access of the control system is possible through use of a modem connected to the PLC.
Automatic operation and control with necessary sensors provide extremely efficient operations preventing unnecessary over-drying of the fabric, optimum exhaust humidity to ensure optimum drying conditions, and accurate dwell time control for best heat-setting results, automatic reduction in fan motor speed during Heat setting operations, optimum temperature control, etc.
Technical Data

Roller Width
1500 mm to 3800 mm
Fabric Width
1200 mm to 3600 mm
Mangle
Two Bowl or Three Bowl
Fabric Feeding Draw Nip
1 kW / 1.5 kW
Mangle Motor
5.6 / 7.6 / 11 kW
Top Roller
305 mm Diameter
Driven Roller
295 mm Diameter
Bottom Roller
305 mm Diameter
Trough
Single Trough with 2 or 3 Guide Rollers or Double Trough
Guide Roll Diameter
114 mm / 141 mm / 152 mm / 177 mm (Wider Width)
Weft Correction
Motorised Manual OR Fully Automatic Electronic
Stenter
From 3 Chamber to 10 Chamber Pin-Clip Chain, Clip Chain, Pin Chain Vertical Return Pin Chain execution
Heating Media
Thermic Oil / Direct Gas / Steam
Selvedge Tension Motor
1.5 kW / 2.2 kW AC
Over-feed Motor
1.5 kW AC
Pinning Motor
0.75 kW AC
Blower Motor
5.6 kW / 7.6 kW / 11 kW
Thermic Fluid Heater NaturalGas / LPG Burner Drive
10/12 Pass OR90,000 Kcal to 1,50,000 Kcal (2 per Chamber) Variable Frequency AC Drive
Exhaust
Two, Three or Four with / without moisture controller
Special attachments for processing knit fabric are provided as required.