Tubular Heat Setting Machine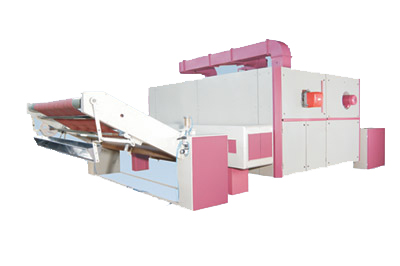 Tubular Heat Setting Machine Model THS – 1 and THS – 2 for Heat Setting with Hot Air Circulating System for all synthetic fabrics and their blends with Cotton, Lycra – Polyester / Lycra – Nylon or Elastene Blends etc.
The Heat Setting machine THS is used to achieve results on knit tubular fabric, which were only possible until now with open-width fabric treated on a Stenter. It also avoids the problems and difficult handling that are faced when fabric has to be processed in open width.
The Heat Setting Machine is used for the pre-setting of Lycra / Elastene blends with cotton or synthetic fibres before the wet processing of the gray fabric, as well as the Heat Setting of synthetic fabrics and blends, if finished in tubular form.
The Heat Setting machine THS is equipped with specially designed adjustable Stainless Steel Frames. Machine is equipped with Radial Blowers, one per section, a Natural Gas Burner or Thermic Fluid Heater, Nozzle Systems for uniform distribution of the re-circulating hot air and a suitable duct. The maximum temperature can be achieved up to 220 degree C. The machine is suitable for One, Two or Three Tubes.
The Cooling Zone at exit is provided to bring fabric temperature close to ambient and a Plaiter is provided at the delivery.
The machine is equipped with a Control Panel with a VFD, Temperature Controller and other accessories.
Technical Data
Model
THS – 1
THS – 2
Roller Face
1500 MM
3200
No. of Tubes
1
2
Connected Load
7.5 kW
9 kW