Arm Dyeing Machine for Silk & Delicate Yarn
Arm Dyeing Machine for Silk & Delicate Yarn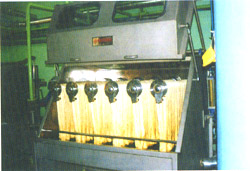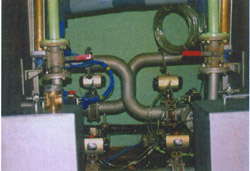 Rear View of Coupled Machines
The SWASTIK Tube Dyeing Machine is manufactured from chemical resistant stainless steel and is equipped with a special low pressure pump with a variable output. The machine is of very strong and sturdy construction and is equipped with suitable pneumatically controlled valves, all in stainless steel.
The Tube Dyeing machine Model TD is suitable for treating all kinds of delicate yarn such as Pure Silk, Rayon, Mercerised and Superfine Cotton yarn etc.
The tubes are positively driven in either direction for pre- determined rotations, liquor circulation is stopped when the yarn is rotated. Direct and Indirect Steam heating is provided with temperature controller. The well-balanced hood is fitted with a large sliding glass.
The SWASTIK Tube Dyeing Machine can be made fully automatic with PLCs / Micro-Processors, if required.
Salient Features
| | |
| --- | --- |
| 1. | Variable output high volume low pressure pump with mechanical seal for re-circulation. |
| 2. | Available with fully Automatic / Semi-Automatic Controls. |
| 3. | Adjustable liquor flow through the tubes as require for the construction of yarn. |
| 4. | Low M:L Ratio compared to extractable carrier system. |
Advantages
| | |
| --- | --- |
| 1. | Higher winding out put due to entanglement-free yarn treatment. |
| 2. | Mechanical mixing and heating of bath without disturbing the yarn. |
| 3. | Can be supplied as coupled machines for maximum flexible operation. |
Technical Data Standard Machine
| | |
| --- | --- |
| 1. | Hank Circumference 54″ |
| 2. | Drop Length 26.4″ (Other sizes on Request) |
| 3. | Liquor Ratio – 1:20 |
| MODEL | No. of Tubes | Max. Load Capacity in Kg. | Total Power KW |
| --- | --- | --- | --- |
| TD-T | 1 | 1-1.5 | 1 |
| TD-S | 1 | 1-2.5 | 1 |
| TD-1 | 1 | 5-6 | 1 |
| TD-2 | 1 | 10-12 | 2 |
| TD-4 | 4 | 20-22 | 2.5 |
| TD-6 | 6 | 30-32 | 6 |
| TD-8 | 8 | 40-42 | 6 |
| TD-10 | 10 | 50-52 | 6 |
| TD-12 | 12 | 60-62 | 6 |
| TD-20 | 20 | 100-105 | 16 |