Cylinder Drying Ranges are the simplest but amongst the most important machines used in Textile Process House.
The cylinders can be installed in stacks of 6-8-10-12 cylinders and with one-two-three or more stacks to form a range.
High Speed Drying Ranges are usually provided with an AC inverter controlled drive with a Flat Belt or a Chain and Sprocket drive to the Individual cylinder.
Efficient condensate removal from the cylinders through a well designed trapping system, coupled with dry saturated steam feeding, ensures excellent performance of the Cylinder Drying range. SWASTIK Cylinder Drying Ranges are equipped with Rotary joints of adequate size for steam feeding and condensate removal (from both sides of the wider-width ranges) and a specially designed TRAPPING SYSTEM with individual traps for efficient removal of condensate water. This results in highest operating efficiency.
Good mechanical design, coupled with maximum cylinder surface utilization ensures lower energy consumption and higher efficiency.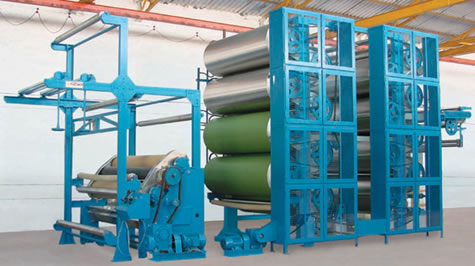 Salient Features
| | |
| --- | --- |
| 1. | Suitable for drying all kinds of Fabrics. |
| 2. | Number of Cylinders as per production requirements. |
| 3. | Working Pressure and Temperature can be adjusted in groups as may be desired for different temperature ranges. |
| 4. | Can be supplied with additional equipment for same side drying. |
| 5. | Cooling Cylinders suitable for chilled water circulation can be provided if required. |
| 6. | Can work in synchronisation with Pre-Treatment Range, Continuous Dyeing Range, Merceriser, Washer or any other machine. |
| 7. | Equipped with two vacuum valves fixed 180° to prevent collapse of cylinders. |
| 8. | For better performance, cylinders are equipped with a drain valve to remove condensate before starting. |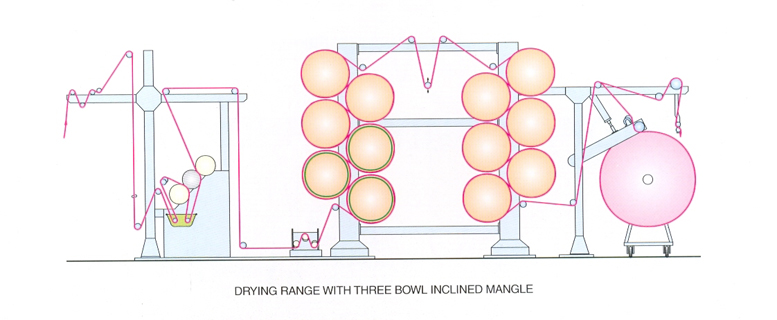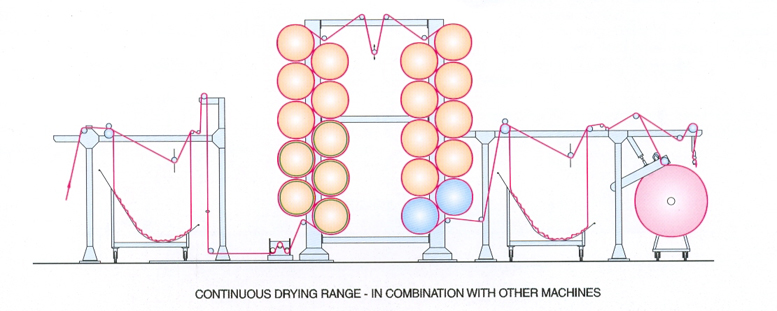 Optional Accessories
| | |
| --- | --- |
| 1. | Teflon Coating on the cylinders. |
| 2. | Moisture Indicator of Controller acting on the steam inlet to the stack. |
| 3. | Curved Bar Expander with Guide Roller or Three Curved Bar Expander Assembly before the first stack. |
| 4. | Big Batching Device or Scray with Big Batching Device for non-stop operation. |
| 5. | Steam feeding from both sides (mandatory for wider-width ranges). |
| 6. | Steam line accessories for steam feeding and condensate removal. |
| 7. | Individual drive to each stack instead of common drive. |
Mangle
The Cylinder dryers are usually supplied in tandem with a squeezing Mangle. Different combinations of Mangles can be used for different applications. Optionally, a vacuum extractor can also be offered for specific requirements.
Technical Data
TECHNICAL DATA- MANGLE
Two Bowl Vertical
Top Roller 300 mm, Bottom Roller 300 mm
Two Bowl Inclined
Top Roller 310 mm, Bottom Roller 295 mm
Three Bowl Inclined
Top & Bottom Roller 310mm, Middle Roller 295 mm
Three Bowl Inclined Horizontal
Top & Bottom Roller 310mm, Middle Roller 295 mm
Trough Design
As per requirements
Mangle Power
3.7 kW – 11 kW
TECHNICAL DATA – DRYING CYLINDERS
Face Width on Cylinder
1300 – 3500
No. of Cylinders per Stack
6 – 8 -10 – 12
No. of Stacks
1 – 2 – 3 or more
Diameter of Cylinder
570 / 760 / 800 / 960 mm
Operating Pressure
4 bar – 6 bar
End Flanges
MS dished ends of suitable thickness
Cooling Cylinders
Stainless Steel jacketed construction for chilled water circulation
Drive
Common Drive or Individual stack drive as desired.
Belt Drive or Chain and Sprocket Wheel Drive to individual cylinders.
Power
2.2 – 3.6 kW per stack.
Speed Range
10 to 100 mtrs / min., with AC VFD (higher if desired)