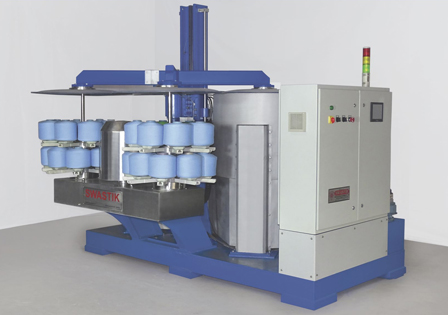 The PE-16/ PE-32 high-efficiency Package Hydro Extractors are centrifugal extractors suitable for removal of excess water from all types of yarn packages. Yarn can be synthetic, artificial and natural yarns wound on plastic cones / tubes or stainless steel springs.
The Hydro Extractor uses high-speed basket rotation technology, which results in better extraction and hence consumes less energy while drying. The special shock absorbers and suspension mechanism ensures noise-less and vibration-free operation. Both the Outer Drum and the Inner Basket are in Stainless Steel construction to ensure a longer life.
The Package Extractor PE 32 has dual and automatic interchangeable yarn carriers for packages which enables a continuous production. The machine has two baskets and four carriers. Two carriers are inside the basket while the other two are being unloaded / loaded. At the end of each hydro extraction cycle the carousel automatically goes up and rotates so that the carriers which were inside the baskets come out and the freshly loaded carriers go in to the basket. This system ensures high productivity due to continuous operation. The model PE 16 has one set of baskets and two carriers and is suited for lower production capacities.
The basket holds the packages which are placed on spindles. The number and size of spindles are custom designed to suit customer needs. These features along with the possibility of selecting the rotation speed ensure gentle treatment of the yarn and avoids deformation of packages and breakages of the package holding tubes.
The Package Extractor is equipped with a PLC for program selection and operation at optimal production speed by setting the cycle time and rotation speed based on the type of yarn and other features. All mechanical clutch and manual braking systems have been eliminated which reduces maintenance downtime and costs.
The high rotation speeds (up to 1500 RPM) ensures very low and uniformly distributed residual moisture content in the yarn packages after extraction without deforming them. This reduces the overall drying cost and improves quality of the final product.
Each package is loaded on to separate holders to prevent yarn damage to both the package as well as the tubes.
Technical Data
| | |
| --- | --- |
| System | Fully Automatic operation with manual loading / unloading |
| Controls | PLC with Touch screen Display |
| Capacity | 8 to 12 Hydro Extraction cycles, depending on the type of yarn |
| Spindles | 16/8 Spindles suitable for holding packages of 0 125 – 180 mm or 12/6 spindles suitable for holding packages of 0 230 |
| Basket | Fabricated from Stainless Steel AISI 304 / 316 as required |
| Outer Body | Fabricated from Stainless Steel AISI 304 |
| Installed Power | 16 kW (2 x 7.5 kW + 2 x 0.25 kW + 1 x 0.5 kW) |
| Foundation | Not required, Free Standing. |
Production Data
| Material Type | Extraction Cycle | Residual Moisture |
| --- | --- | --- |
| Polyester | 3 min | 10 ± 2% |
| Cottor | 5 min | 50% ± 5% |
| Cotton Blends | 5 min | 45 ± 5% |
| Viscose | 6 min | 60% ± 5% |
Technical data and accessories shown are subject to modification without notice.